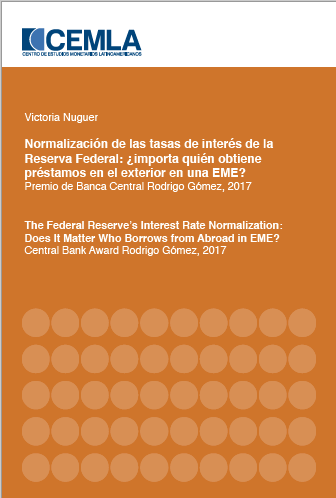 Central Bank Award Rodrigo Gómez, 2017
In this study, Victoria Nuguer builds a small open economy model with banks and exporting firms. She observes that an increase in the foreign interest rate makes borrowing more expensive and brings the econ­omy into a recession. When natural nonhedged firms borrow from abroad, an increase in the foreign interest rate prompts more volatility in the emerging economy than when naturally hedged firms borrow from abroad. Thus, she proposes a nonconventional policy in which the financial authority lends to nonhedged firms when foreign borrowing is more expensive. Finally, she ob­serves that households are better-off with the policy than without it.
With the publication of the Central Bank Award Rodrigo Gómez 2017, CEMLA aims to continue con­tributing with the research development and seeking a better understanding of the economic phenomena that are of interested of central banking in the region.
The Federal Reserve's Interest Rate Normalization: Does It Matter Who Borrows from Abroad in EME?
Victoria Nuguer
Rodrigo Gómez Award 2017
publicaTion | PDF format| size 2.22 MB
Keywords: emerging market economies, financial frictions, unconventional policy.
JEL classification: G28, E44, F42, G21. ISBN 978-607-8582-03-7 (electronic) / 978-607-8582-04-4 (print)
Submission process for
Monetaria
CEMLA receives articles or essays (papers in general) for peer-review refereeing on a continuous basis. Any person may submit original papers to be published in Monetaria provided the author or owner of its rights authorizes CEMLA to submit the article for peer-review refereeing and grants the Center translating, editing and publishing rights if accepted for publication.
Loading